Enos Elementary School will work together to ensure that all students will become successful, life-long learners.
Vision: Enos will work with families and the community to create a positive learning environment that will provide all students with the knowledge, skills, and tools necessary for becoming successful, productive members of society.
Instructional Focus: Reading Comprehension
Instructional Focus Statement
Enos students will show measurable growth in comprehending a variety of reading materials as measured by classroom and district assessments.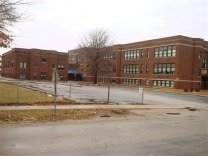 Historic Enos Elementary School
8:30-3:00 p.m. Monday, Tuesday, Thursday, Friday.
8:30-2:00 on Wednesdays.
Students may arrive at school beginning at 8:10. Supervision and breakfast begin at this time.